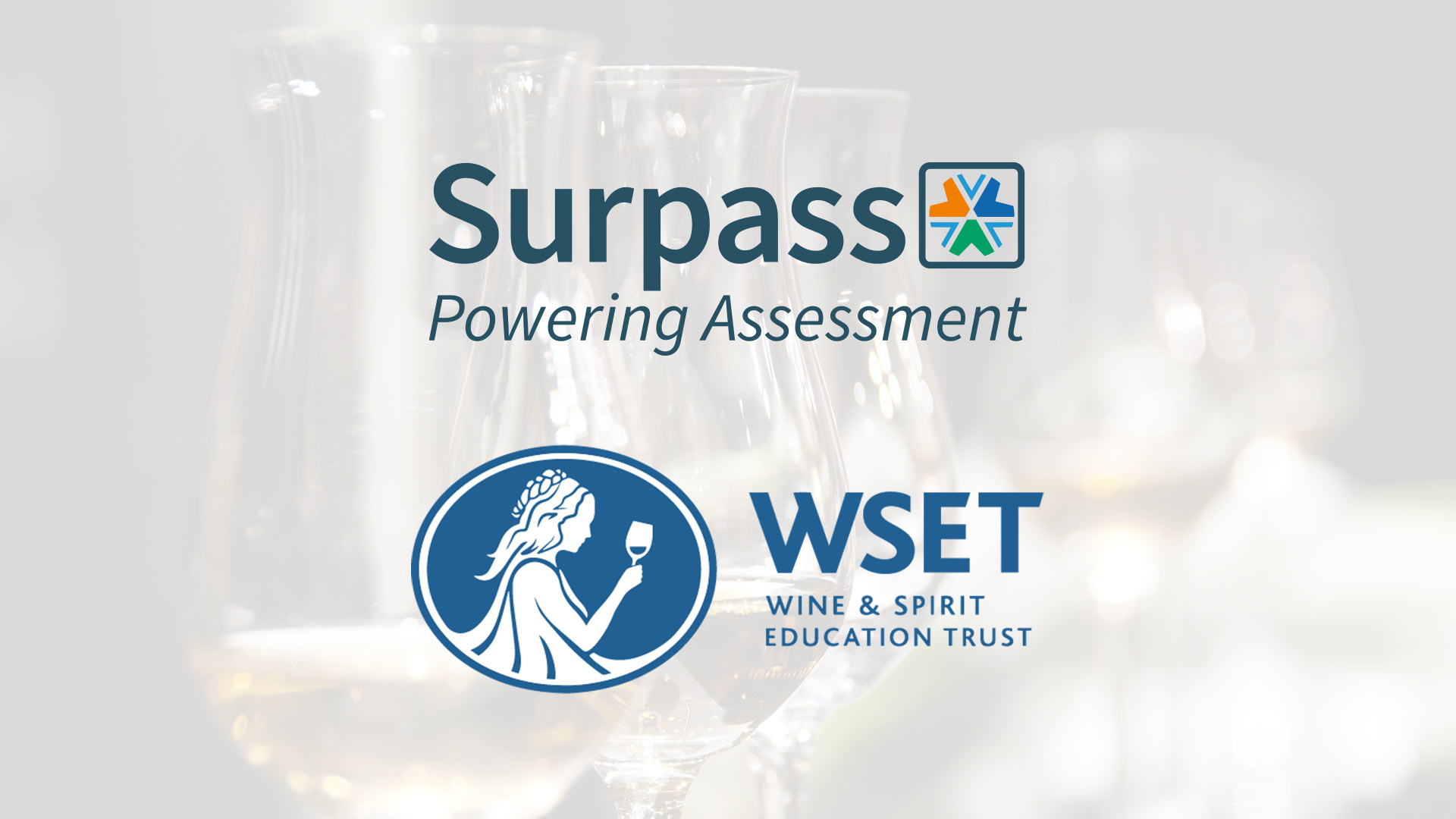 BTL is proud to announce that the Wine & Spirit Education Trust (WSET) has chosen Surpass to transition its globally recognized suite of qualifications from paper to on-screen delivery.
WSET, the largest global provider of wine, spirits and sake qualifications, delivers exams to over 100,000 candidates a year through more than 800 course providers in 70 countries, offering examinations in 15 different languages across nine different qualifications. As part of a digital transformation project, WSET is digitizing its exam offering and many of its qualification development and operational processes. Surpass, as well as being best placed to provide an item banking solution, also offered a computer-based testing solution. This prompted WSET to begin its transition to on-screen delivery at the same time as migrating its existing item bank to Surpass. WSET will also take advantage of Surpass technology to strengthen some operational processes in the business.
WSET will take a phased approach to its transition to on-screen delivery. In this way the business will listen to the experiences of its Approved Program Providers and establish best practice. In the interim period, WSET will continue to deliver paper-based exams.
Tony Cook, WSET CIO, comments
"We are looking forward to seeing the benefits of on-screen delivery – more user-friendly processes for employees, improved results turnaround times, better psychometric reporting capabilities and a reduced environmental impact. Offering on-screen delivery will also allow us to innovate with new question types and enhance our candidates' experience, as well as streamline the management of multi-language delivery."
Ian Harris, WSET CEO, adds,
"The move towards digital assessment is a strategic imperative for WSET. It will bring great benefits for our APPs, our employees and, most importantly, for our students. We are very pleased to be working with BTL to ensure our on-screen assessments are best in class for the new digital age."
Sonya Whitworth, Managing Director of BTL commented,
"It's a privilege to welcome yet another prestigious organization to the Surpass Community. WSET is known for the quality of their qualifications, so to be selected as the solution to best meet their needs is fantastic. We're delighted to be able to support WSET in helping to make their processes more efficient and in implementing these positive changes'.
About the Wine & Spirit Education Trust
Set up in 1969, WSET is the largest global provider of qualifications in the field of wine, spirits and sake.
WSET offers qualifications across four levels, from one-day beginner courses through to an expert level diploma. Courses are available in more than 15 languages and over 70 countries and are open both to industry professionals and interested enthusiasts.
WSET is recognized as an awarding organization by Ofqual, the English regulator of qualifications and examinations. All WSET qualifications have a strong reputation worldwide as the industry standard for knowledge.
In the last academic year (2018/19) over 100,000 candidates sat for a WSET qualification and, since 1969, WSET has awarded nearly one million individuals a WSET qualification.
For more information about WSET, please visit www.WSETglobal.com.
About BTL & Surpass
Established in 1985, BTL Group Ltd. has grown into a renowned global provider of assessment technology and services trusted by some of the world's highest profile providers of high-stakes summative assessments. Since 2007, BTL's core focus has been the development of its award-winning assessment platform, Surpass. Surpass is considered to be one of the best solutions available and has been used internationally to create, deliver and mark over 25 million computer-based tests to date. BTL's success has been due to its innovative approach to technological development, its passion for improving assessment for everyone, its creative core, and its refreshing approach to collaboration with partners and Surpass Community members.