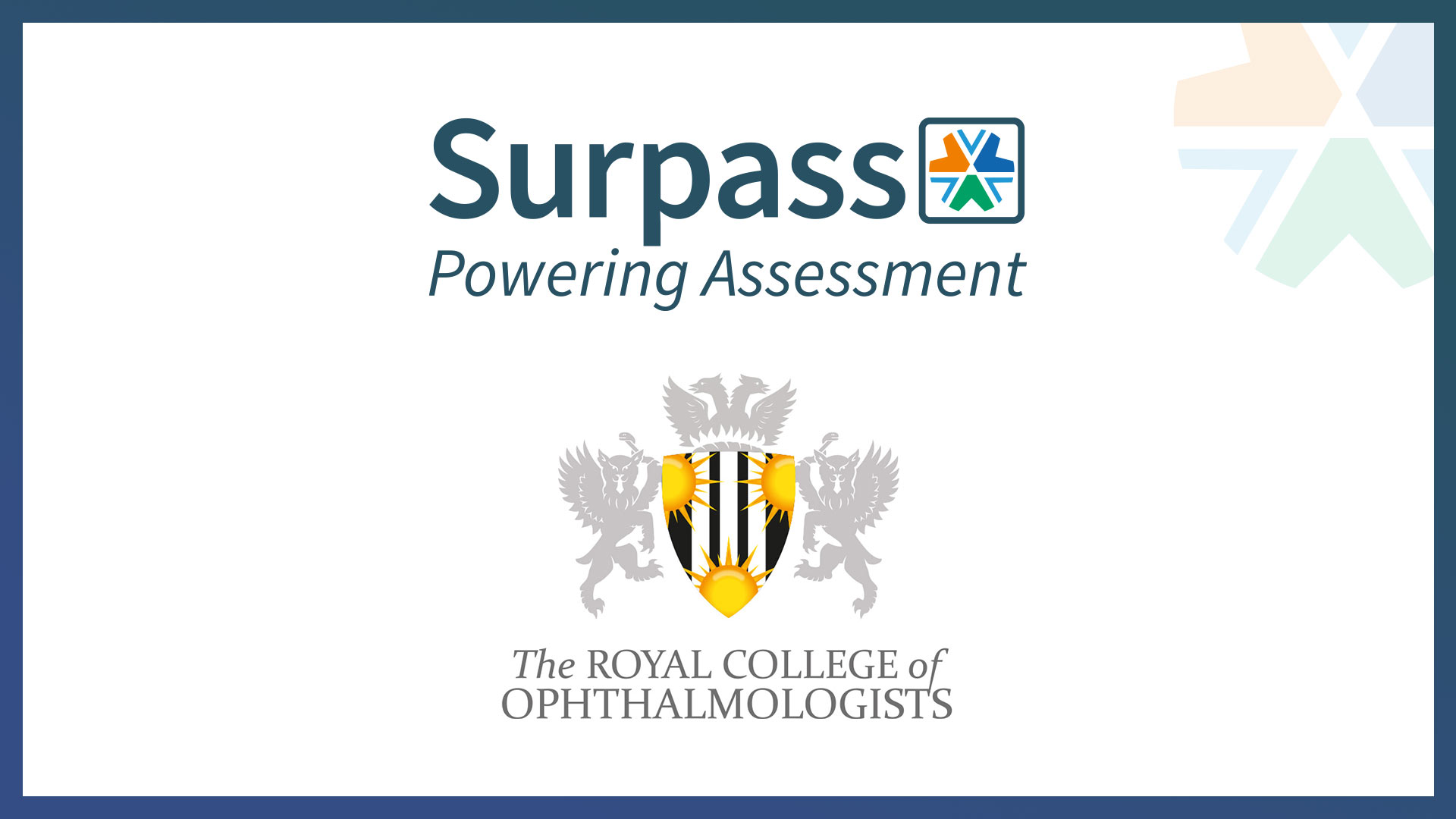 The only professional membership body for qualified ophthalmologists selects the Surpass online invigilation service for remote test delivery
Saltaire, West Yorkshire, UK, 26 October 2020 – BTL Group is delighted to be working with The Royal College of Ophthalmologists (RCOphth), to deliver on-screen examinations using the Surpass Remote Invigilation service.
The BTL team will be directly supporting the RCOphth with remote delivery, while their Surpass item authoring and test creation will be undertaken in collaboration with Surpass Community partner Ripley Systems. Ripley's exam management system will leverage the Surpass test driver to allow organisations to securely deliver into BTL's global test centre network and online invigilation service.
The RCOphth are the only professional membership body for medically qualified ophthalmologists and for those who are undergoing specialist training to become ophthalmologists. They join existing Surpass Community members RCPCH and NBME in their use of Surpass for high-stakes medical qualifications.
Utilising the Surpass Online Invigilation service will provide a convenient and secure way for candidates to continue with their qualifications from their own homes. The Surpass dual-camera online invigilation service uses the candidate's smartphone camera and webcam to provide a full view of the test environment, as well as capturing what's happening on-screen during the test. Tests can either be monitored live, or reviewed by a team of trained invigilators to detect potential malpractice and maintain test security.
Dylan Costello, Head of Examinations at RCOphth said:
'COVID-19 greatly impacted the delivery of RCOphth exams throughout 2020, especially with the practical exams that use real-life patients. In response to the pandemic, we have developed an innovative video-based examination process to replicate the real-life patient experience for the candidates. The Surpass Online Invigilation system will be key in continuing to provide ophthalmologists in training with a high quality examination and assessment service.'
Sonya Whitworth, Managing Director of BTL added:
We are delighted to welcome the Royal College of Ophthalmologists to the Surpass Community. It's vital that qualifications such as the ones delivered by RCOphth continue during this time of uncertainty, and we're proud that our service has been selected to make that happen. Surpass is a versatile platform for the delivery of all kinds of assessments, and adding another high-profile organisation from the medical sector to our community is a real testament to how Surpass can meet the needs of these high-stakes examinations.'
About the RCOphth
The Royal College of Ophthalmologists believes that everyone should have access to high quality eye care. They champion excellence in the practice of ophthalmology through standards in training, education and assessment of ophthalmologists; supporting the promotion of research and innovation throughout the ophthalmic community.
RCOphth are the only professional membership body for medically qualified ophthalmologists and for those who are undergoing specialist training to become ophthalmologists.
About Ripley Systems
Since 1989 Ripley Systems have created unique, bespoke database solutions for hundreds of clients in many different industries. Many clients use a Ripley's system to seamlessly manage and deliver their Examinations and assessments by traditional methods or electronically on computers, mobile devices and with BTL, on-line. Ripley's systems are tailored to each individual client and drawing upon their vast experience, they can guide and advise you when required. Ripleys are proud to develop robust systems which are not off-the-shelf but developed for you.
About BTL & Surpass
Established in 1985, BTL Group Ltd. has grown into a renowned global provider of assessment technology and services trusted by some of the world's highest profile providers of high-stakes summative assessments. Since 2007, BTL's core focus has been the development of its award-winning assessment platform, Surpass. Surpass is considered to be one of the best solutions available and has been used internationally to create, deliver and mark over 30 million computer-based tests to date. BTL's success has been due to its innovative approach to technological development, its passion for significantly improving assessment for everyone, its creative core, and its refreshing approach to collaboration with partners and Surpass Community members.