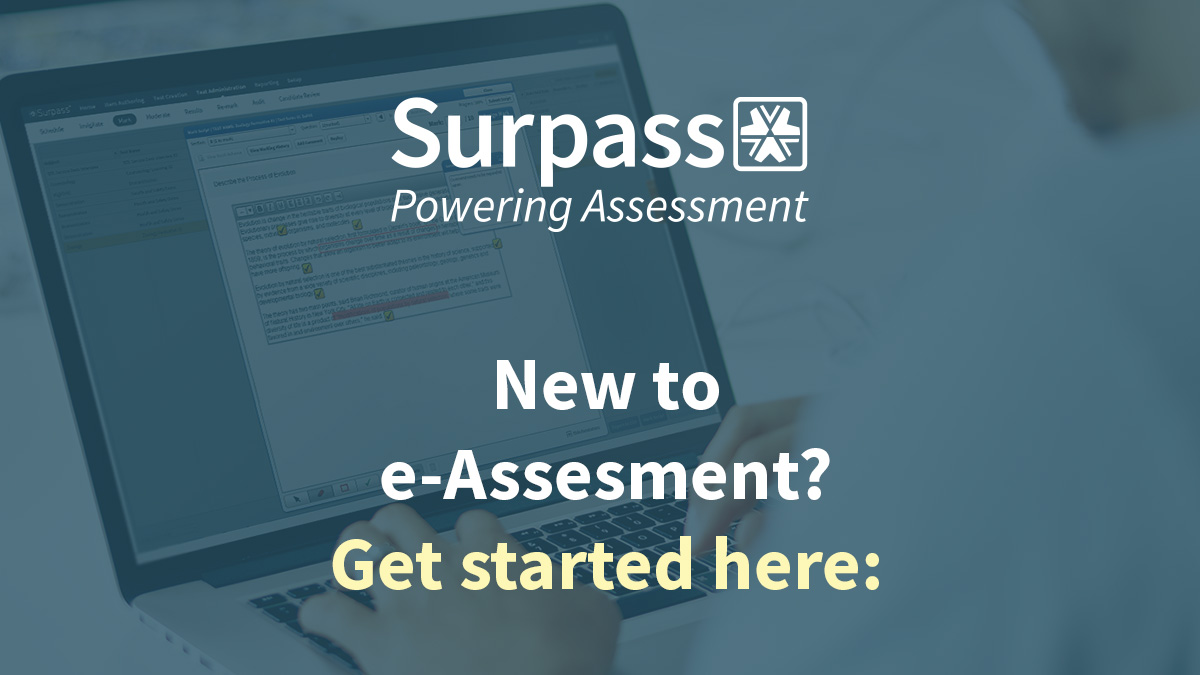 Whether you're new to the assessment industry, or you're a veteran that's trying to make sense of new terms and technologies, this FAQ is designed to help you on your journey to creating a better assessment experience.
We hope you find the answers you need, but if you're looking for more, why not get in touch and begin your journey to joining the Surpass Community? We're always more powerful when we work together towards our common goal – to improve the assessment experience for everyone.
If you have any questions for the Surpass team, please feel free to get in touch using the contact form at surpass.com/contact
Below are some of the questions we're regularly asked that might help if you're new to the world of e-assessment.
What is the difference between online testing and computer-based testing?
Although these terms are often used alongside each other, there is a subtle difference. Computer-based testing refers to any examination taken on a computer, whether this is using a touch screen, keyboard, or other input method. Unlike 'online testing', a computer-based test doesn't need to be connected to the internet while the test is being taken. One common misconception is that online testing is less secure than computer-based testing, but this isn't always the case.
Certain tests, such as Computer Adaptive Tests (CAT), are typically built to be taken online because the content of the test changes according to the ability of the candidate. Other test types such as fixed test forms or Linear-On-The-Fly tests (LOFT) can be taken online or downloaded ahead of time and stored securely until they are unlocked to be taken securely offline by the test taker.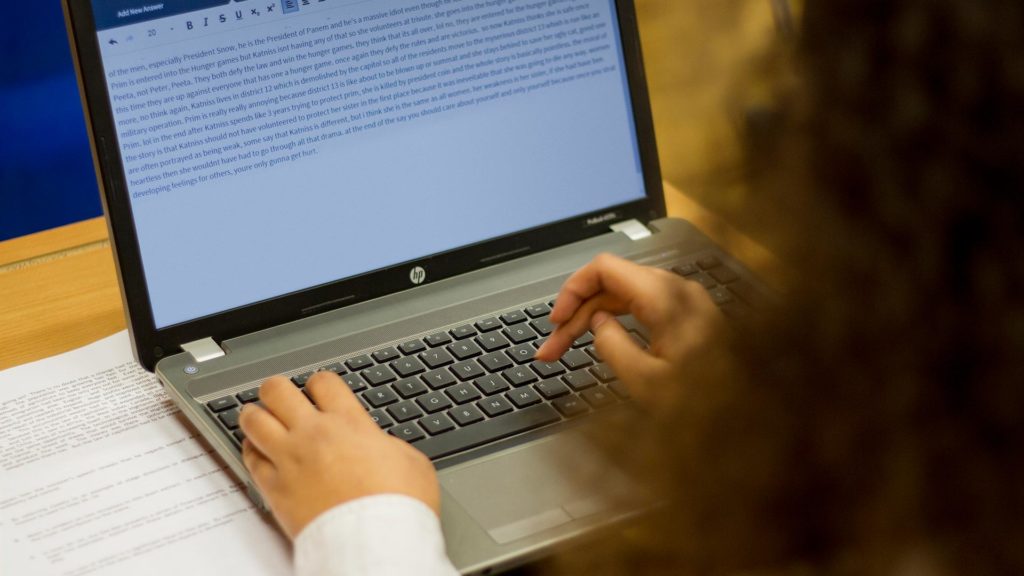 Is computer-based testing as secure as paper based tests?
There is a lot of discussion around the topic of security in testing, and many people argue that with modern security methods, computer-based tests using the correct software to create and deliver them, are actually more secure than paper-based tests. You can't encrypt a paper exam, nor can you remotely control someone opening the question paper like you can with computers. On paper, there is no digital audit trail showing every person that has been involved with each item from authoring to scoring and marking. There are also environmental advantages, as paper exams typically make 3 journeys before results are issued, not to mention the waste generated.
In test centers, opportunities for malpractice can still exist such as capturing and sharing images of exam questions, however this can be mitigated through the use of a quality test center network which is independent of the learning provider. If you want to know more about using a test center network, our team can help you with that.
With computer-based tests, advanced live or recorded proctoring technology making use of webcams and smartphones, and the ability to lock-down access to other software during the exam, mean there are fewer opportunities to leak content or use unauthorized information sources. Sometimes this can be a useful alternative, particularly when the learner is based remotely.
Can I create one item and use it for both a paper-based test, and a computer-based test?
Nobody likes having to do the same job twice, and Surpass allows you to create one item bank and use that to generate both paper and computer-based test forms at the click of a button. But why might you want to do this? In some cases, regulators insist that a paper test is available for candidates who are experiencing technical difficulties (e.g. a broken keyboard on their laptop). It may also be that you want to offer your candidates a choice depending on their preferred way of working.
There are some things to consider when creating tests if you intend to deliver them both on paper and on-screen. Think about the question types you want to use, and whether this will create a comparable experience for all candidates. Our team will be able to help you consider your approach in situations like this.
Are online invigilation and remote proctoring the same thing?
Yes. Due to the nature of computer-based testing, we are starting to see more and more test publishers and awarding bodies use terms developed in other countries.
The term 'proctor' is the same as 'invigilator' with both being preferred in different regions around the world. Both online invigilation and remote proctoring refer to the process of remotely observing a candidate taking a test in a location of their choice, via one or more webcams . The video feed can be either watched live or recorded and watched back later at speed.
If you're interested in finding out more about the possibilities remote proctoring can bring to your organization, please get in touch with our Test Center Network team.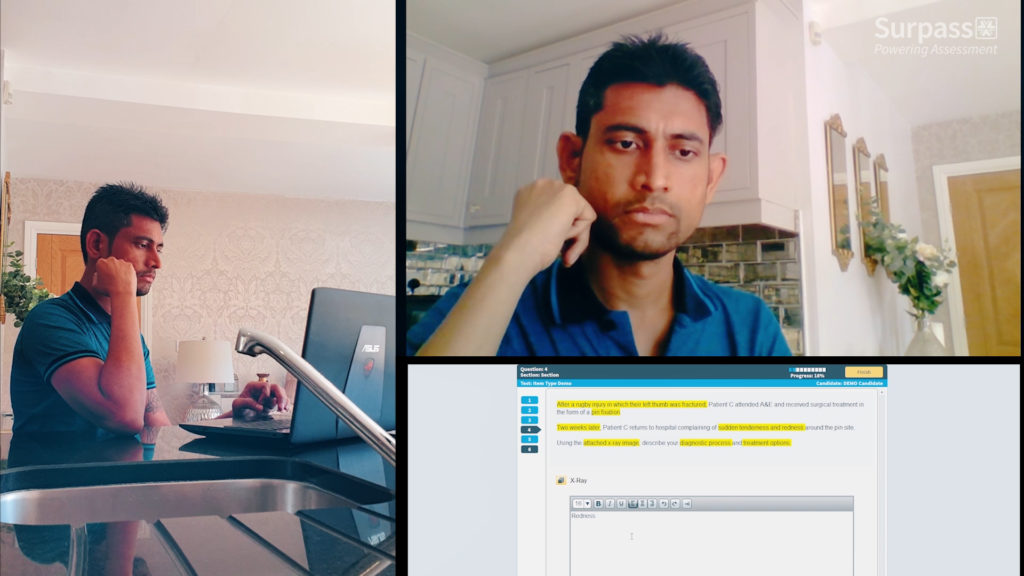 What is "psychometrics" and how do they help me create exams?
Psychometrics is the science of testing, using data and statistics to judge the difficulty of an item and the ability of the candidate. Surpass has tools integrated into the reporting function that can help you report on these statistics, and a trained psychometrician can help you deeply analyze your test items to ensure you are getting the most from your item bank, whilst creating the most effective and fair tests. As well as telling you vital information about your items, psychometric analysis helps you to create invaluable audit trails for heavily regulated exams.
Hear more from Amanda Dainis, CEO and Lead Psychometrician at Dainis & Co, as part of this podcast:
How useful is exam feedback for my candidates?
In many situations, good exam feedback can be fundamental to a test taker's progression – whether they're in school and the test is determining areas they need to focus their study, or a professional completing Continuous Professional Development (CPD).
Examination feedback tools in Surpass are designed to work on multiple levels, so if you want to simply show candidates which questions they answered right or wrong, this can be available as soon as they click 'finish' along with descriptions about why they answered incorrectly. Alternatively, it may be that you want to sit with a candidate and explain to them how they can improve their studies, and for this, you can export data from the marking and results screens ready for a face-to-face meeting.
How accurate is computer-based scoring of tests?
For objective answer items, such as multiple choice or fill in the blank, computer-based marking in Surpass is extremely accurate. Scores for items can be set during the item writing phase, and weighted marking options allow you full control over different item types.
The marking of essay question types automatically, requires a large number of responses to use in the training of the scoring software. We have some AI technology that could assist you with this so please get in touch if you're interested in finding out more.
For more complex situations where human marking is still essential, Surpass includes both human and e-marking technology that can help to create a more efficient, reliable process. Quality of marking can be monitored using seed items which are used to benchmark the testing progress ensuring examiners are working to a consistent standard. Our smart-marking technology can also reduce the scoring workload.
How can I design a more authentic test?
Typically, the first steps to creating a more authentic test, regardless of your industry, are to include rich media such as photos, videos, and audio files, that help you to bring a situation to life.
Then, through the use of advanced question types, such as hotspot and audio capture, you are able to ask candidates to perform specific tasks that might normally be achieved in a real-world situation. For example, financial examinees could be asked to fill in spreadsheets based on company accounts, an engineer could be asked to identify problem areas on a blueprint, and language students could be asked to respond verbally to an audible instruction.
Surpass helps you to take this one step further with innovative and unique tools, such as the in-built PDF reader, ensuring documents are delivered securely with full functionality, and the award-winning high-fidelity image viewer which allows your candidates to zoom into radiographs, blueprints and other media, as they would in real life.
If you are interested in talking to professional consultants who can help to ensure you are using the right item types and creating the most 'real-world' as possible situations, please get in touch today and we'd be happy to introduce you.
Should I use multiple choice or essay style question types?
There are a number of question types suitable for any range of situations to get the most out of your candidate, but you might also want to consider your other resources and the meaning behind your test.
For example, MCQs allow you to produce a knowledge recall test that can be easily delivered on-screen or on paper. Accurate, secure computer scoring means a fast turnaround for you as the awarding body, and for your candidates. Candidate feedback can be attached to each question and delivered instantly after the exam, which is perfect for formative and learning tests.
Essay style question types, on the other hand, require human marking and perhaps different phrasing in the question stem itself. However, these questions enable you to gather a broader response from your candidates to analyze their understanding of a situation and offers them an opportunity to explain their response.

Can't find the answer to your question here? Contact the team and we'll be happy to help.