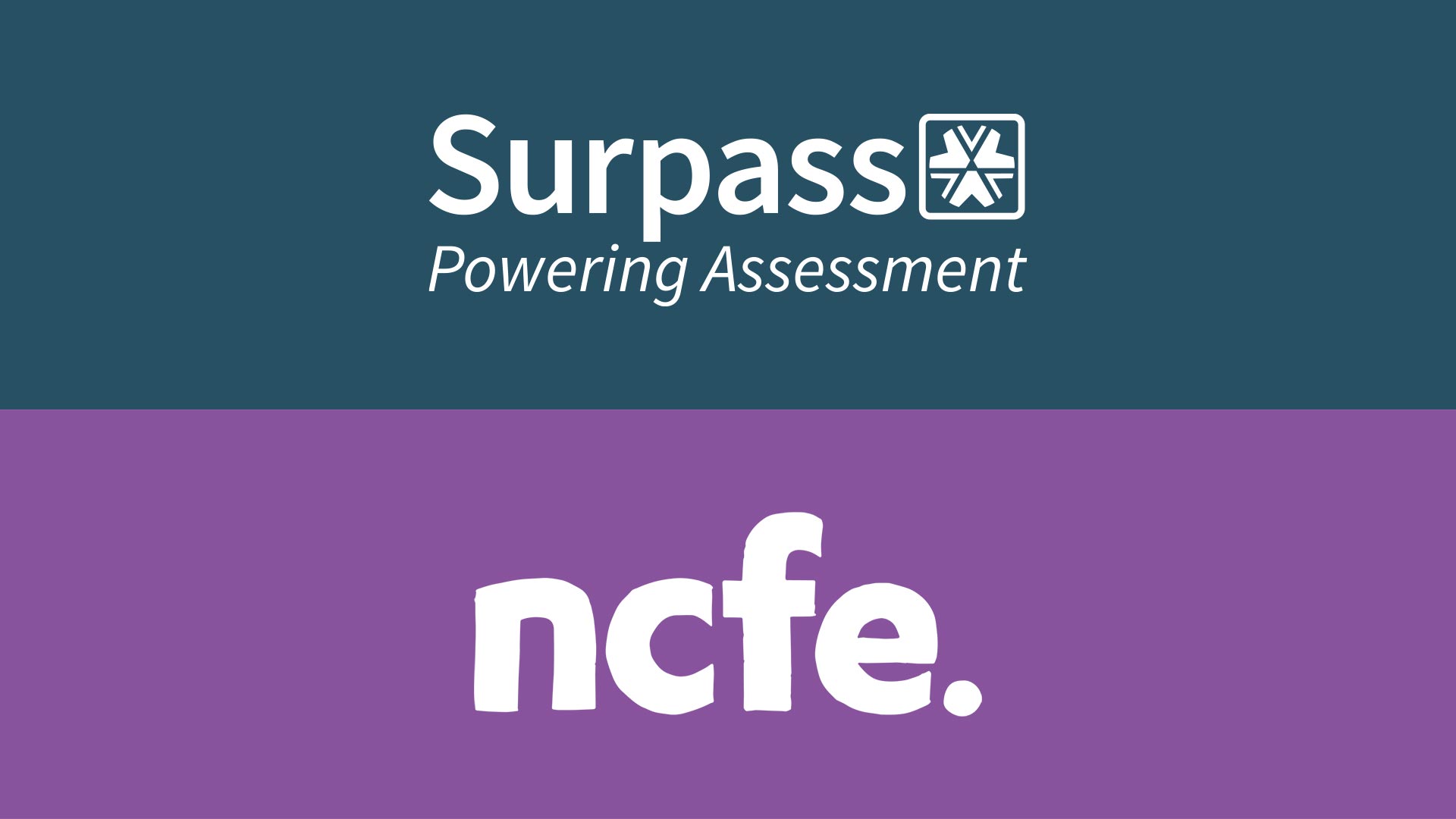 We are delighted that long-standing Surpass Community member, NCFE, has chosen to continue their relationship with BTL and commitment to e-assessment by renewing their contract with Surpass.
NCFE is one of the most widely respected awarding organisations in the UK and has a strong reputation for innovation. Recently, NCFE has been selected to deliver 6 of the 9 brand-new T Level qualifications with the first available for delivery in September 2020. NCFE first joined the Surpass Community in 2009 and has used Surpass to create and deliver their Functional Skills English, Maths and ICT qualifications, in addition to a number of vocational qualifications.
NCFE is known for looking ahead to the future and for ways to enhance processes, and within the organisation they have created an Online Assessment Manager role, dedicated to making the most of the Surpass platform and how it can help them achieve their goals.
Surpass has already proven itself to meet the needs of NCFE and their varied qualifications through the platform's flexibility, intuitiveness to use for both candidates and test developers alike, and the ability for it to adapt to the specific needs of the business. NCFE is dedicated to providing first-class customer service, alongside high-quality assessments, and they work closely with BTL teams to provide this all-round exceptional service to their customers.
The contract renewal also sees NCFE successfully migrate their qualifications from the Surpass 11 platform to Surpass 12, which they achieved in just 3 months due to effective project management. In time, the migration will allow NCFE to take advantage of some of the additional functionality that Surpass 12 has to offer.
On the contract renewal, and transition to Surpass 12, Toni Brooks, Online Assessment & E-Marking Manager at NCFE said:
'The move to Surpass 12 was a short, intense and challenging project, and at times seemed unachievable. However with the support of our NCFE Project Manager and our BTL Account Manager we tackled the project by breaking it down into smaller and more achievable objectives. We met regularly to review these objectives and tracked them as closely as possible, and did what we needed to do to achieve the launch date of 1 September. I'm thrilled we delivered this on time and was able to speak with great pride about it at the BTL Annual Conference.'
Sonya Whitworth, Managing Director at BTL added:
'We've worked with NCFE for many years, so we are delighted to continue that relationship by being given the opportunity to work with them for more years to come. NCFE's purpose and culture are closely aligned with those at BTL; just one of the reasons we work so well together. The team at NCFE have really become Surpass experts over the years, and this was a great advantage in ensuring a smooth transition to Surpass 12.'
Toni Brooks presented as part of the Community Experiences session at the 2019 Surpass Conference. You can view Toni's presentation here.
About NCFE
NCFE is a registered charity and provider of a range of quality educational services. With a strong heritage in learning, NCFE is proud to have been at the forefront of technical education for over 170 years. NCFE designs, develops and certificates diverse, nationally recognised NCFE and CACHE branded vocational qualifications and resources which have supported millions of UK learners into employment. Through world class customer service and commitment to its shared mission to 'promote and advance learning', NCFE is committed to improving lives through learning.
NCFE started using the Surpass Assessment Platform to deliver their on-screen exams in 2009. Assessments developed and delivered using Surpass include: Functional Skills English, Functional Skills Maths, Functional Skills ICT, Health and Safety and CACHE Dental Nursing.
About BTL & Surpass
Established in 1985, BTL Group Ltd. has grown into a renowned global provider of assessment technology and services trusted by some of the world's highest profile providers of high-stakes summative assessments. Since 2007, BTL's core focus has been the development of its award-winning assessment platform, Surpass. Surpass is considered to be one of the best solutions available and has been used internationally to create, deliver and mark over 25 million computer-based tests to date. BTL's success has been due to its innovative approach to technological development, its passion for significantly improving assessment for everyone, its creative core, and its refreshing approach to collaboration with partners and Surpass Community members.