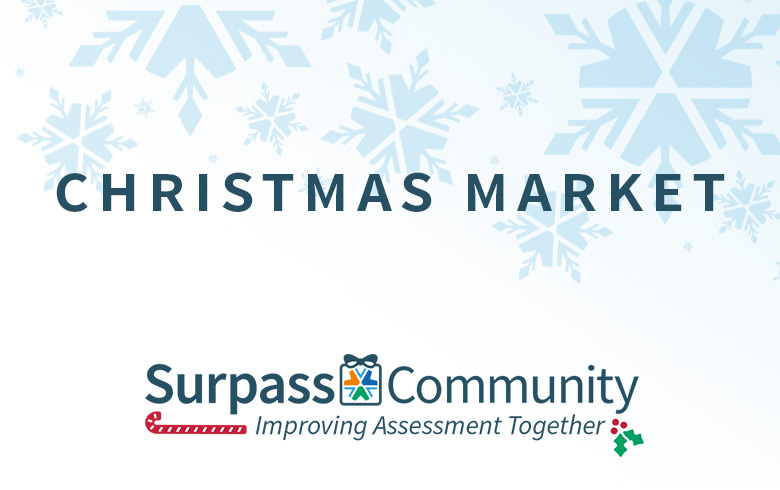 *Update: 20th November 2020*
We're sorry that due to unforeseen circumstances, the virtual Christmas market planned for 26th November has now been cancelled. To view details of the stallholders that would have been exhibiting, please visit this article.
We wanted to do something more that send Christmas e-cards this year to say thanks to the hardworking members of the UK awarding sector, so we put out heads together and came up with a Christmas cracker of an idea – the Surpass Virtual Christmas market, open to all members of the UK awarding community.
On Thursday, 26th November, we're bringing you a unique and interactive Christmas shopping and socialising experience in the Remo platform.
The Surpass team have handpicked a range of independent makers and creators from around the UK to showcase their products and maybe even offer a special discount on purchases! After chatting with stallholders to discover their unique gift ideas and the story behind their brand, head over to their online shops to browse at your leisure.
There'll even be a few social areas set aside, so if you just want to take some time to catch up with colleagues or the Surpass team and enjoy the festive atmosphere, you can do that too.
This unique event is the perfect opportunity to mingle with fellow UK awarding community members, whilst browsing a variety of virtual stalls to help you get your Christmas shopping underway.
All that's missing is a bit of seasonal food and drink, but here's a selection of recipes if you fancy getting in the festive spirit and making your own:
Places are limited to the first 150 sign ups, so act fast and save your spot!
How the event will work
Sign up to secure your place
Join the Remo event any time from 3-5pm
Choose a table, chat to the stallholder and see what unique products they have on offer
Move round the 'stalls' or join one of the social spaces to chat with other attendees
Leave with inspiration for some extra-special Christmas gifts!
We'd love to see you there for this dynamic and interactive virtual Christmas market, exclusively for the UK awarding community!
'Yule' be sorry if you miss it!